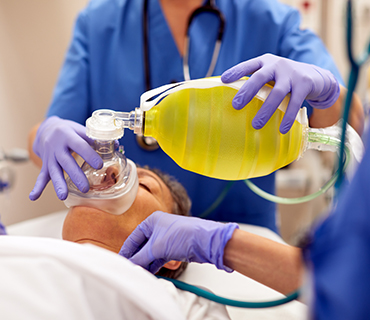 Basic Life Support
$105 Per participantCourse Length: 3-4 hours
The purpose of the American Red Cross Basic Life Support (BLS) course is to ensure that individuals with a duty to respond (public safety professionals and healthcare providers) have the knowledge and skills necessary to respond to breathing and cardiac emergencies. The course emphasizes active, hands-on learning and uses scenario activities to help participants learn how to provide one rescuer and two rescuer CPR, multiple rescuer response, how to use an AED and relieve an obstructed airway for adult, child and infant patients. Participants will learn how to check both a conscious and unconscious patient, how to give effective ventilations to a patient experiencing a cardiac arrest and/or respiratory arrest, including using a resuscitation mask and bag-valve-mask (BVM) resuscitator. Participants who successfully complete this course will receive an American Red Cross certificate for Basic Life Support, valid for two years.
Options available:
Our classes run year round but all are currently full or do not have open enrollment.
Contact Us today to host a course at your facility.